Over the past year, On Deck has done something insanely hard: scaled an education company, online, profitably, while growing revenue 10x! They even raised a $20 million Series A to build the "Stanford of the Internet".
Unlike other online education startups that we are familiar with - like Udemy or Coursera - On Deck is heavily relying on a future where education is community-led. Instead of selling text or video-based courses that students consume passively, their key value proposition is the community-based fellowships led by an expert Program Director.
They now offer 14 such fellowships: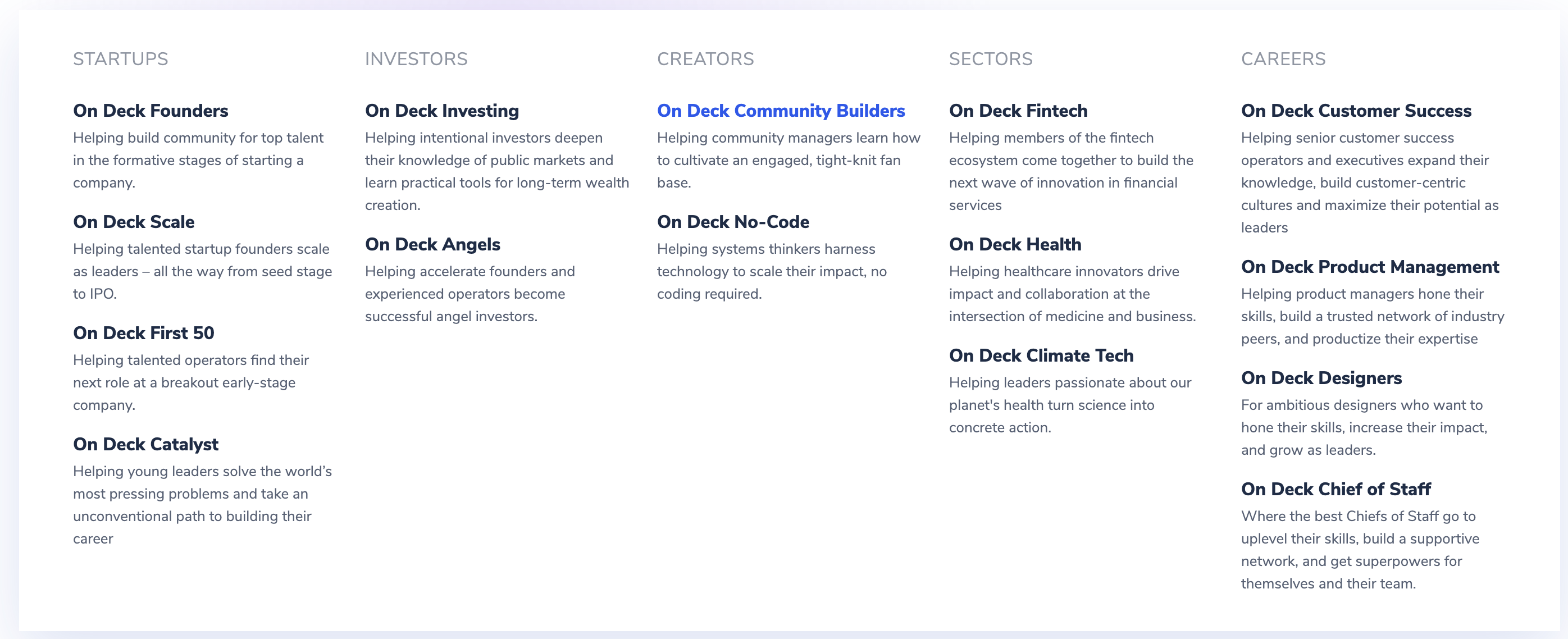 I wanted to get a first-hand experience of how On Deck is doing it. So, I was excited when they announced their new Community Builders fellowship and joined the first cohort.
"We're taking everything we learned building the On Deck community to help you supercharge your own."

- On Deck Community Builders fellowship page
It was an 8-week program attended by ~100 other community builders who wanted to learn from the On Deck community playbook.
While they didn't share a literal playbook - alas! - I was able to identify 3 key pillars of their metaphorical playbook: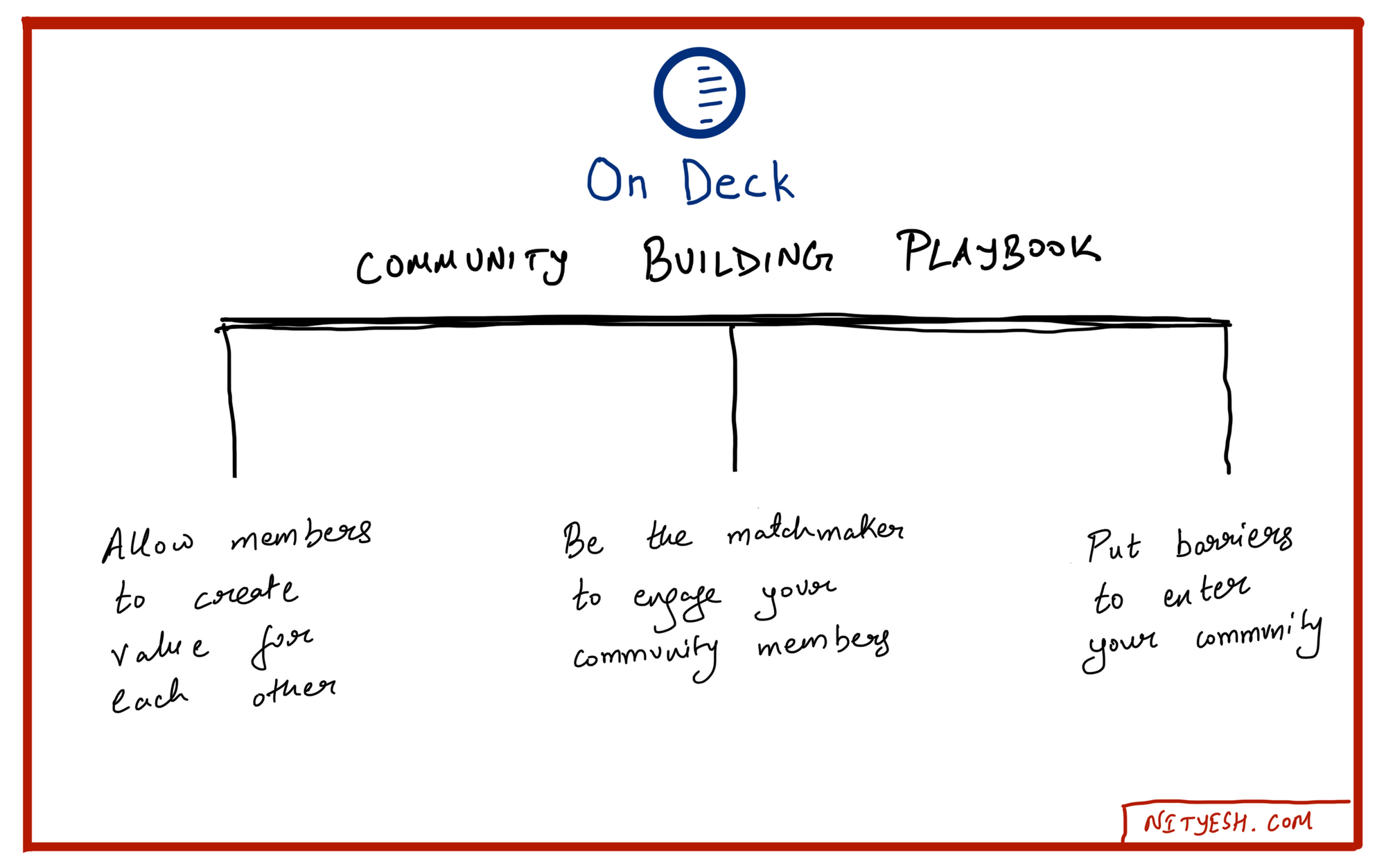 Allow members to create value for each other
Be the matchmaker to engage your community members
Put barriers to make it difficult to enter your community
Best part?
These pillars are not unique to On Deck - any community builder can steal them to improve their own communities!
So, below, I'm going to discuss each of these pillars and describe how On Deck created a high-value experience around them, so that you may use it for your own community.
Pillar #1: Allow members to create value for each other
My biggest takeaway is how they enable their fellows to create value for each other, and thus, for On Deck itself!
Community Builders, take note:
Our job is to allow members of our community members to create value for each other.
How On Deck allows it's members to create value for each other:
On Deck Community Builders (ODCB) fellows created value for each other all the time:
They hosted Serendipity Dinners
Once a week, On Deck banded participants in small groups of 10-15 people for a 1 hr "dinner chat".
These chats were 100% hosted by a fellow.
2. They asked questions during Fireside chats with experts
On Deck organised 45-minute Zoom calls with 2-3 experts every week, for ODCB fellows.
Our Program Director, Lais, interviewed them for the first 20 mins.
But it's the fellows who asked the most interesting questions in the remaining 25 minutes.
3. They made the Icebreaker and Social sessions awesome!
What were these sessions?
They were hour-long sessions, hosted on the awesome Gatheround app, where you connect with 7 randomly chosen fellows on a 7-minute 1-on-1 call. Think speed dating but better because everyone went home with amazing connections.
I remember having such an adrenaline rush after participating in my first Icebreaker session.
Oh, the serendipity and excitement of connecting with a stranger around the world who understands your work!
4. But that's not all...
We were invited to an ODCB Community Calendar to keep a track of the events that were 100% organised by the fellows.
These were events based on specific, shared interests (like edtech, venture, gen-z etc).
Did you notice how it's the paying customers who were creating value for each other, but under the ODCB brand?
So, On Deck is not creating a valuable product for their customers. It's creating it with them.
And that's the key pillar of the On Deck playbook that allows them to run 14 fellowships, each of which cost 2000-5000 USD to enter.
Pillar #2: Be the matchmaker to engage your community members
A simple way to engage members in your community - be the Matchmaker.
As a Community Builder, you have special matchmaking powers that others in your community don't. And we all know - with great power comes great...
How Be On Deck plays the role of matchmaker in their fellowships:
Interest-based socials and Slack spaces
At the start of the fellowship, every new fellow filled out a detailed form listing their interests and expectations from the fellowship.
Then, they used this info to bring together people interested in specific topics, both on video socials (that I mentioned earlier) and private Slack channels.
2. Masterminds
Based on time zones and years of experience, they put every member in a Masterminds group of 6 people.
These groups meet every other week on a 90-minute video call to allow members to discuss their communities and seek feedback from their peers.
3. They encouraged fellows to organise events, dinner chats and klatches
These were events hosted by fellows to talk about a particular community building issue or share their expertise on something.
This way the fellows created value for each other.
Your special matchmaking powers
What are those special powers you have as a community builder?
1. You have the "Ice-breaking Hammer"
People are naturally scared of reaching out to strangers and putting themselves out there.
But you are different - you are no stranger! Everyone knows who you are. Plus, you have credibility as their community person.
So, you can help them by becoming everyone's wingperson.
2. You have the best knowledge of who can help whom
You know who's there. You know their stories - what's their background and where they want to go.
Atleast you know it better than anyone else in the community.
The community is the village you set up.
Pillar #3: Put barriers to make it difficult to enter your community
This is the most non-obvious, even controversial, pillar I discovered:
Community-as-a-product creators can create a lot of value for their customers simply by creating a high barrier of entry to their premium communities.
I call it the "Self-fulfilling Prophecy Effect of Premium Communities".
How it works
The high barrier of entry attracts serious participants
who create lots of value for each other
thus justifying the high barrier of entry to the premium community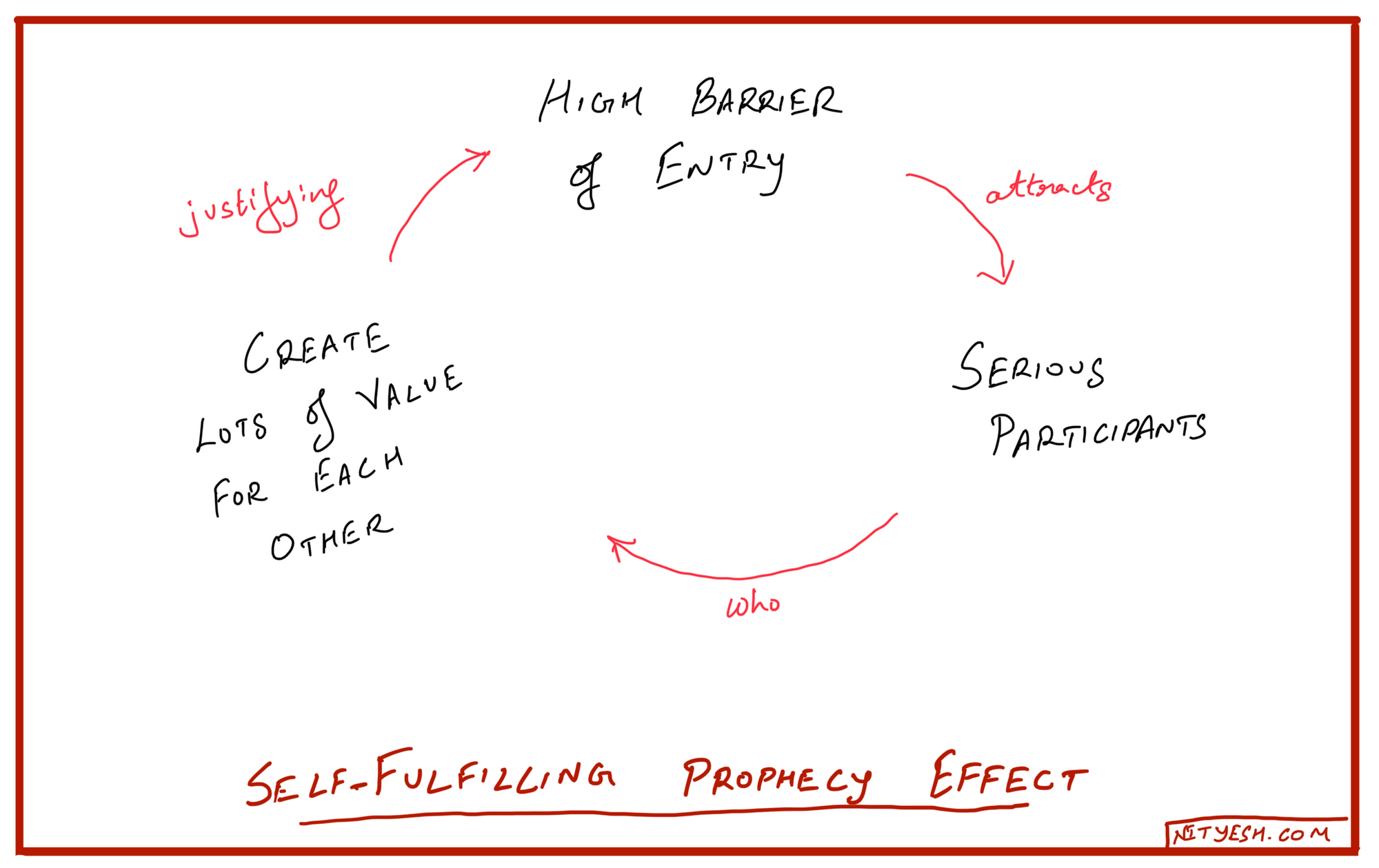 Unlike other traditional products, it works because a lot of the community's value is created by its members (the customers). So, as a creator, you can increase your product's value by increasing your members' output.
There are 2 ways in which high barrier of entry helps in increasing your members' output:
1. Accelerates trust b/w community members.
Members can be sure that everyone around them is serious about the purpose of the community.
This makes it easy for them to let their guards down and participate in your community.
2. Makes members more enthusiastic about participating
By spending effort to get in, members become invested. They want to get their effort's worth.
To do that, they need to participate - because with a community, you get what you put in.
Take On Deck for example
One of the reasons On Deck communities work is simply because there's a high cost of admission ($2000-$5000). Everyone knows that everyone else around them is seriously invested.
On top of this, fellows go through an interview where they need to convince the program director that they can be positive contributors in the On Deck community. This gets them invested.
Invested enough that they participate in the fellowship despite having a full-time job. They take out >5 hours out of their time every week to
interact with other fellows
participate in sessions
build group projects
Non-monetary barriers of entry
But the barrier doesn't have to be monetary though.
In fact, YCombinator pays you money to be a part of their cohorts. But they put the barrier at the application process and take only those candidates who can show that they are highly motivated and relentless.
You can have similar non-monetary, proof-of-work type barriers to make your community exclusive yet, accessible.
---
Before participating in this fellowship, I used to doubt the scalability of high-value communities like On Deck.
I used to think that the only reason they can provide such an awesome community experience is because the high ticket price must allow them to hire a tonne of community professionals who can devote time to meaningfully engage with everyone.
But after joining, I was surprised to see that there were only 2 full-time people who were devoted to this fellowship - one Program Director assisted by an Operator. That's it!
I, now, understand how good communities created using these 3 pillars can be highly scalable.